Criteria to Join
Sites have to be animal related any kind of animal page is welcome to join.

Sites depicting any type of hate, abuse, or pornography are not admitted.

Sites that promote declawing or are against spay/neuter are not admitted.

Sites created by breeders or sites which promote breeding are not admitted.

Sites which promote the selling of animals, puppy mills or catteries are not admitted.


Save this graphic to your hard drive. Right-click your mouse over the image and "Save As..." Please do not link to my server--this will cause you to be removed from the ring.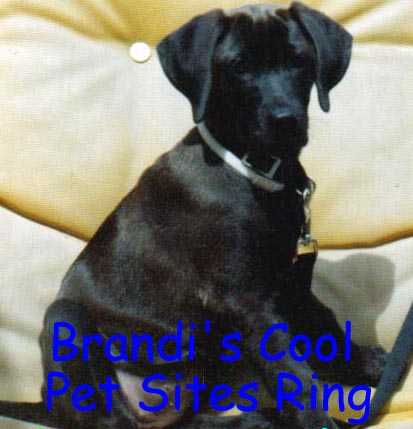 Fill in the application form (link follows these instructions). Be sure the URL you submit is the page upon which the code will be placed. The ring code will be sent to you in an email. Please make sure your email address, site ID#, and your name are correct when you receive the code.
ATTENTION AOL USERS: I have included a copy of the code for your convenience. AOL mail destroys HTML coding. You will need to place your email address, site ID#, and site name in the areas marked by asterisks.
Please place the code within 7 days on the URL you submitted on the application form, otherwise your submission will be removed from the queue and you will need to reapply.
Email the Ring Mistress AFTER the code has been displayed on your page to let me know that you are ready to be added into the ring. You will not be admitted without notifying me.
Sites will be checked regularly to make sure the ring fragment is on the submitted page. This will keep our ring flowing smoothly. If the ring fragment is not found on the submitted page, the graphic is broken, or the links of the fragment are incorrect, your site will automatically be removed. Once you resubmit and have the ring fragment back in place I will add you back into the ring.
The Ringmistress reserves the right to admit or deny membership of any site. I prefer sites that are not simply advertising or collections of links.